DoorBird D301 - Analog Door Intercom goes IP

The DoorBird D301 converts a conventional analogue door intercom into an IP door intercom system. The DoorBird D301 is simply connected by the resident to the existing indoor station or to a door phone via a cable; the usual range of functions of the previous door intercom system are completely maintained as well as being a full-featured IP door intercom system. The DoorBird D301 ensures that you won't miss a delivery - you will be immediately informed on your smartphone or tablet when the delivery service or postman rings. You can see your visitors, talk to them, and open the door with a smartphone or tablet - from anywhere in the world. If your door intercom also has a camera, you can also see the visitor on the smartphone.

With the DoorBird D301, you will never need your house key again to get into the house. This can be done comfortably via the Smartphone with a digital key. You can change the digital key at any time if you want for example when you have temporarily rented out your apartment with Airbnb. The entire communication between the Smartphone and DoorBird is encrypted according to modern banking standards, making it more secure than any physical home key, which you can lose at any time.

The front door can even be unlocked automatically by means of Geofencing / Bluetooth® when you are standing in front of the door, which is not only practical when you have your hands full with your purchases and do not have to worry about your key.
Features
Push Notification as soon as someone rings the door bell
Free App
Free remote access
Two-way Audio
Video
Visitor History
Manual door opening via App
Automatic door opening per schedule/Geofencing/Bluetooth®
No intervention in the electronics or voltage supply of the previous door intercom system, warranty and functions of the previous door intercom system is maintained
Connection to the router via W-LAN or network cable
PoE – Power over Ethernet
Made in Germany
Encryption according to Banking Standards
Certification according to CE, FCC, IC and UL
Functional sketch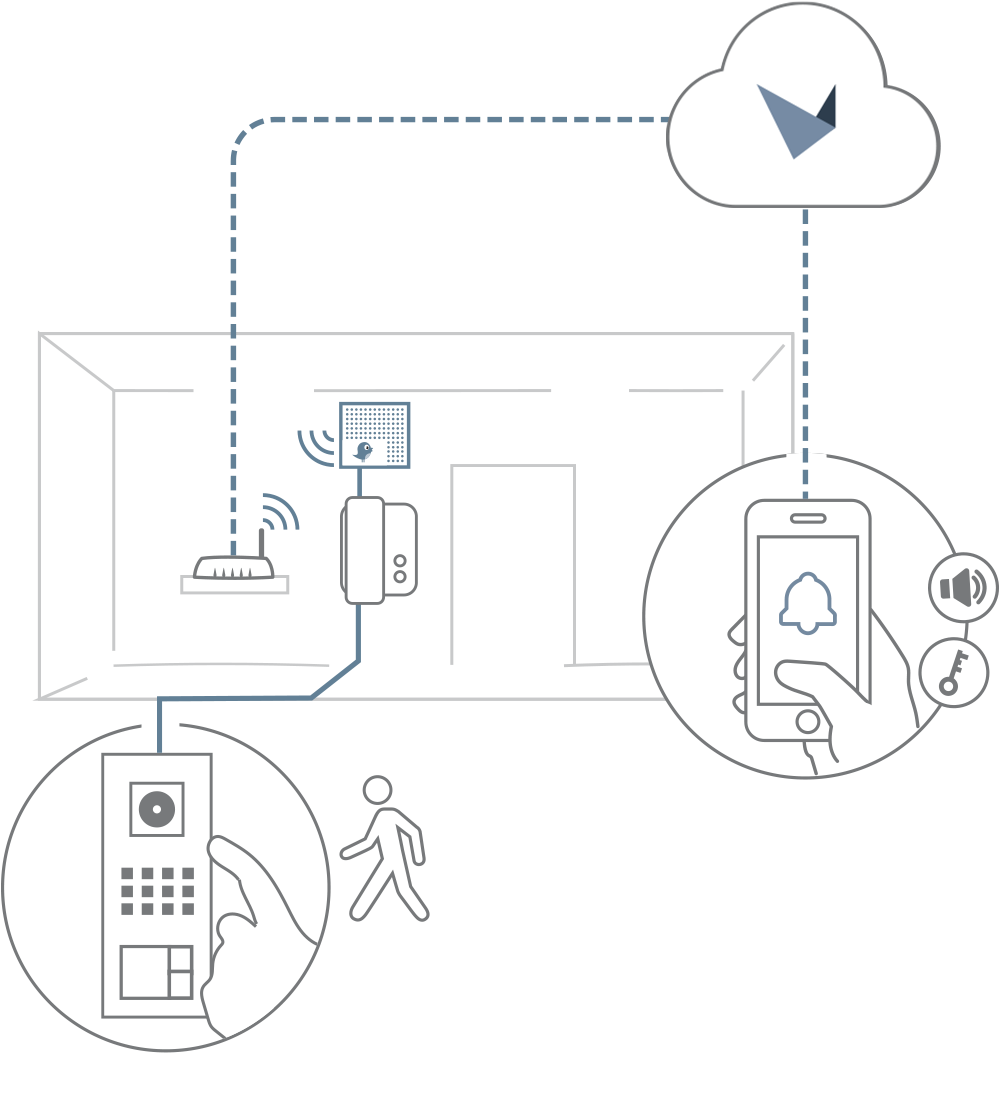 Supported brands



The DoorBird D301 also supports door stations that do not have an integrated camera.

Pricing and availability: Spring / Summer 2017 at www.doorbird.com
Product presentation: ISE Amsterdam 2017